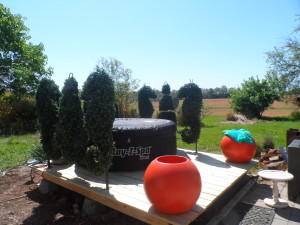 So this spring has started out with a bang.  As I wrote a couple articles ago, the To Do list for the Hall this year included cutting down the Gingko, scraping, painting, staining and repairing the main porch and installing new windows.  Well, the Gingko is gone as of April 16!  We have not yet figured out a good week to work on the porch and the windows have to wait on some budget restraints (probably until fall).  However, there have been a few little distractions, frustrations and projects that have occurred that were not even on the list.
Each year, Kelly has it in her head that she wants a "get away" space in the cupola area; each year, I remind her how hot and cold it is up there most of the year and how physically awkward for guests (not to mention me, the original klutz) to make it up and down the ladder.  Then she again mentions that we need storage as she goes up and down the ladder and looks out over the attic joists.  What started out as, "ok, let's throw a couple pieces of plywood down, quickly evolved into, "well hell, let's just put down tung and groove flooring" after a visit to the hardware store in which I calculated that it was almost the same amount of money for the nice floorboards as opposed to the plywood AND it would be oh so much easier to get the boards up there.  So, that was two easy weekends of work to lay the floor, and well, while we were up there, I put insulation down as well, to help try and keep the bedrooms at least a little warmer.
Ray and Bobby were out both weekends and, as usual, were huge helps in getting the project completed.  Of course, as we are hauling lumber from the hardware store, up the staircase and then up the ladder and Ray and I were crawling around laying the boards, at the end of the day we were all quite sore.  As per usual, we lamented that there was not a hot tub out there.
Sometime in that second week, Kelly found a deal on a blow up hot tub which she sent me (with shipping to my house it was all of $307).  It had great reviews and we decided to go for it.  So, Ray came out, yet again, (have we mentioned how much we love and appreciate Ray and Bobby?) and he and Kelly came up with a plan for building a deck where the nasty poison ivy tree used to be a couple years ago, just off the patio, on which the hot tub would go.  I had little input on the planning process (I lost count how many times Kelly glared at me and told me to shut up and reminded me about the "little" patio that we all built two years ago!)
The week prior, while we had been assembling yet another deck box to house the cushions for all the patio furniture we now have, we were being inundated with wasps.  Although we tried to fight them with normal Harriette Homeowner methods (27 foot cans of spray, mothballs etc.) we finally gave up with the google searches and Kelly had Dependable Pest Management (www.dependablepestmanagement.com) come out and deal with the nests.  The guys came out this past Friday morning and were excited to use the "big sprayer" and treated the various areas of the house and left the honeybees alone (at our request.)  When I walked in the door Friday afternoon, the wasps and carpenter bees were agitated and not happy and the carpenter bees made it a challenge for the dogs and I to get in the side entrance, as they kept dive bombing us.  Friday night, the amount of carpenter bees were annoying enough on the verandah that Kelly and I actually used tennis rackets to bat them away!  However, by Saturday afternoon, there were no wasps or carpenter bees to be found!  Woohoo.  A major win and I have to say, I highly recommend this company.  The manager/owner, Kathy, was wonderful to talk to.  The week prior, along with the realization that we could not handle the wasps on our own, we also realized that we had a critter(s) in the basement.  I have never done such a comprehensive search of scat identifier websites in my life and was absolutely unable to figure out what we had; other than to know that it reeked.  It was nesting up in the basement insulation, had ripped up several pieces and peed and pooped all over the insulation.  So, we had to remove all the insulation and I went back to my Harriette Homeowner method of putting out traps and throwing bags of mothballs out to discourage whatever the critter was.  The exterminator guys apparently laughed at my mothball technique; they were pretty sure they knew what the issue was when they talked to us on the phone, but when they came out, they confirmed that it was snake scat.  I'm sorry; it just never occurred to me that snakes pooped or peed.  Gary is still laughing at me for that one.  I mean, I know they swallow their food and digest it that way, similar to birds of prey; I assumed they just spit the remains up…..ok, whatever; now I know.   We were informed the only way to get rid of the snakes was to get rid of the mice (well, duh!  Been working on that project for years!) and then the snake(s) should leave.  Just an FYI, there is no way we are talking about a petite little snake.  The poop is huge……and the skins they found are not even close in size….just saying.  After we are sure it is gone, I can spread snake b gone around the house to discourage them from coming back; if I do it before they go, they will never cross the line to leave.  Sigh.  So, we have tried to make it as inhospitable as possible down in the cellar and hopefully as it warms up it/they will be gone soon.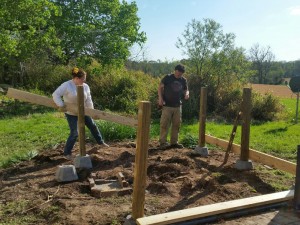 Anyway…back to the deck and hot tub.  With the three of us starting at 9 a.m., the deck was completed and the hot tub was inflated and assembled and up by 6 p.m.  Would have been much quicker if Ray and Kelly had not had to deal with the remains of the stump from the Locust tree that had been there .  Locust is one of the hardest woods to cut and just the few roots and bit of stump in the way were no easy matter to clear out.  Once that was done, the actual building took only a couple hours.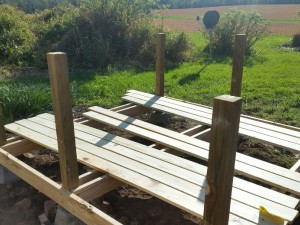 Of course, the temperature dropped significantly that Saturday night (below 40), so even though we filled the tub from the water heater, one to have filtered water and two to get a head start on the temperature, the tub did not reach an acceptable temperature that night.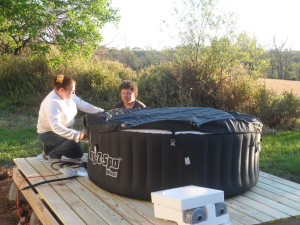 But, Sunday afternoon, after all the guests had gone and Kelly, Ray and I put the finishing touches on the deck (including using those seahorse topiaries that she and I got at an auction a few years ago and moving some planters around) and cleaned up the clutter from the weekend, we decided to take some time and actually enjoy the fruits of our labors.
Unfortunately, Ray had already left by that time.  But thanks to Ray, this was one of the quickest, easiest and satisfying  projects I think we've ever worked on!