You know that feeling you get sometimes when you go into a restaurant and take a closer look around and think to yourself – I should NOT be eating here.  It isn't usually a single thing but a bunch of little things that add up to a not so good feeling in your tummy.  Well my friends, that is how I used to feel about the room we now refer to as the temporary  kitchen. It started off as a room with a mini fridge and a broken full size fridge for dry storage.  Some furniture made it a place to set stuff down but it wasn't cozy or friendly or inviting.  This was the one room that needed some TLC and it would give us back a place to cook, eat and be happy.  Let me take you back in time . . . . .
After a couple of years, I couldn't take it anymore and convinced Laurie to let me clean it up.  And it started to look a little better.
Then, a sink was added and we didn't know how to act anymore – we were *that* excited!
And finally we went all in and did the entire room.  Painted, plastered, refinished floors, chandelier, custom island, storage, electrical, and full size appliances!  Words cannot describe how grateful we are for finally having a kitchen but now we can't imagine not having it.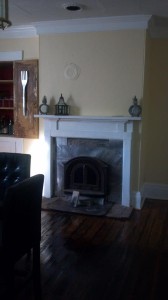 Even since these photos, more work has been done to make the space comfortable and special.  As always, thanks for visiting 🙂